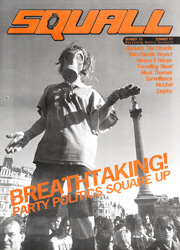 Squall 15
'Breathtaking! Party Politics Square Up'
Summer 1997 (60pp A4)
Download PDF (searchable text) - 22mb
The State It's In / Liverpool Dockers / News Of The Skews / McLibel Latest / Heroin in ex-mining towns / Mark Thomas interview / Surveillance On Protesters / Nevermind The Ballots: London RTS for Liverpool Dockers / CCTV / No Runway 2 - Manchester Airport Protests / Travellers' School / BP's operations in Colombia / Gorleben Trainstopping / Exodus Collective Update / reviews, letters and more.
---
CONTENTS
The State It's In - Editorial
The surreal morning after we'd finally got rid of the Tories - page 4
FEATURES
Harbouring Dissent In Merseyside
The Reclaim The Future weekend of action in Liverpool last September brought together DIY groups and sacked Liverpool Dockers. Ally Fogg reviews the event and the history of the dockers' case. - page 9
McLatest
With the mammoth McLibel trial verdict pending, Squall has the update on the tenacious stance of Steel and Morris against the might of McDonald's. - page 21
Wrong Side Of The Tracks
Since the pit closures of the early '90s there has been a disturbing increase in heroin use in ex-mining communities. Annie Taylor investigates. - page 22
Thomas The Prank Engine
Sam Beale interviews stand-up comedian Mark Thomas whose television series The Mark Thomas Comedy Product has ruffled a fair few feathers in high places. - page 26
Watch With Big Brother
"To be feared is not to be respected and without respect, community cannot exist." Seamus O'Conner reviews the implications of new police powers of 'intrusive surveillance'. - page 28
Square Dancing
In case you only learned of the event through the media's negative coverage, here is the story of the March for Social Justice retold in pictures by Ivan Coleman and Nick Cobbing. - page 32
Too Close Circuit For Comfort
The government claims a new spy camera, dubbed Pubemaster 2000 by privacy campaigners, will aid clampdowns on terrorists. Gibby Zobel reviews the implications of its wider uses and abuses. - page 34
Aero-dynamics
Ally Fogg reports on the 'No Runway 2' protestors at Manchester Airport who took to the tunnels to protect hundreds of acres of mature woodland and green belt areas. - page 36
Skool's Out (And About)
Sam Beale visits the Travellers' 'Skool' to find out how they teach it on the road. - page 40
Building Bridges
A new report written by a Church of England lay minister is positively candid in its appraisal of the Exodus Collective. Jim Carey talks with the author. - page 42
The Drilling Fields
Debbie Young investigates claims that any opposition to British Petroleum's operations in the Casanare region of Colombia is regularly met with violence. - page 46
Trainstopping
15,000 people protest in Germany against the transportation of nuclear waste to Gorleben reprocessing plant. By Ben Taverner - page 48
Wh'appen With The Exodus Collective?
Squall has the update from the massive but passive Luton Collective who's battles to offer alternatives to 'Misspent Youth' rage on. - page 50
REGULARS
Squotes - page 17.
News of the Skews - The March For Social Justice in central London in April gets the 'media riot act' and Brazilian Aids victim labelled "illiterate syphilitic" by Tebbitt - page 19.
Ex-Actors of Parliament - Shed no tears - it's yer Squall political graveyard - page 20.
The Voice Of Treason - Mark Kelly imagines ten possible ends for Rupert Murdoch - page 31.
Lofty Tones - Global Village Idiot Tony Allen states his case for suing Nirex - page 39.
Road Rage - round-up of road-protest action around the country - page 44.
Roundabout - snippets of informed gossip, intrigue and odd occurances - page 45.
Jewel In The Mud Award- the Independent calls for more 'reality' and less hysteria about Ecstasy - page 49.
Reviews - books, videos, theatre & music - page 52-56.
Altered State: The Story of Ecstasy Culture and Acid House by Matthew Collin with John Godfrey
Free party top ten chunes - page 56.
The Write Stuff - letters to Squall - page 57.
Contacts - page 59.
plus
Special offer - your very own Swampy commemorative plate - page 31.
Competition - captions for gorgeous prizes - page 43.