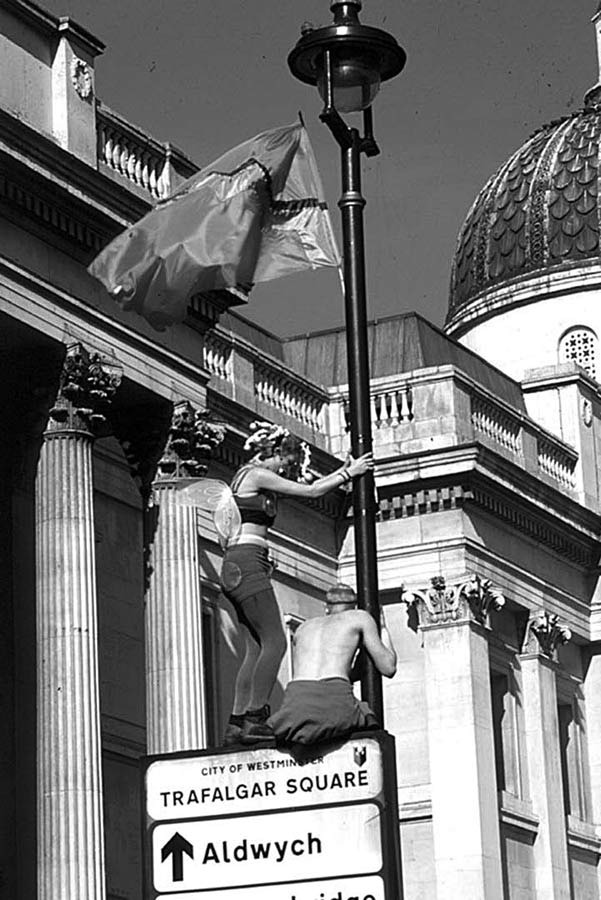 Square Dancing
Mersey misery turned to Dockers' delight as the March for Social Justice brought together Liverpool Dockers and Reclaim The Streets in London on April 12. Many of us wondered whether the mainstream media had attended a different event. Just as a reminder, here's the day as seen through the eyes of Ivan Coleman (main pic) and Nick Cobbing.
Squall 15, Summer 1997, pp. 32-33.
"It was a marvellous day organised jointly by the Liverpool Dockers, Reclaim The Streets and other environmental groups... The only way forward is to get together more and more; speaking for the dockers, we can't wait to organise our next joint action."
- Billy Jenkins, Liverpool Dockers Shop Stewards Committee quoted in Evading Standards 25/04/97.
---
"What a great sight, when we paused at Lambeth Bridge and looked back at the numbers of our supporters, especially 'RECLAIM THE STREETS'. Thank you."
- Andy Dwyer, sacked Dockworker.
---
"The "signbite" riot and no amount of disinformation can wipe out the memories of the 20,000 people who will remember the joy and festivity of the day, long after the police-hyped media spectacle is forgotten."
- Evading Standards 25/04/97
---
"A magnificent demonstration of unity against social injustice mis-reported to satisfy a phoney state."
- Mike Carden, Merseyside Port Shop Stewards.
---
Related Articles
Harbouring Dissent In Merseyside - The Reclaim The Future weekend of action in Liverpool last September brought together DIY groups and sacked Liverpool Dockers. Ally Fogg reviews the event and the history of the dockers' case. Squall 15, Summer 1997.
For a menu of many other Squall articles about the Anti-Roads Movement, including protest camps, Reclaim The Streets and more click here