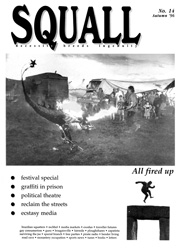 Squall 14
'All Fired Up'
Autumn 1996 (72 PP tabloid)
Download PDF (searchable text) - 21mb
The State It's In / RTS on the M41 / Simon Sunderland / Ploughshares women acquitted after disarming Hawk jet / Manchester Monastery occupation / Surviving The JSA / Criminalising Festival-Travellers-Ravers / Festivals Under Attack / State Of Travellers 96 / Rural Planning Permission / Banner Theatre / Fairmile Road Protest / McLibel Latest / McLibel Special Branch / RTZ in Bougainville / Brazil's Rural Squatters / News of the Skews / letters, reviews and more...
---
CONTENTS
The State It's In - A View From Squall Central
With media, politics and advertising merging ever more concentrically, there is no longer any border control between PR, news-spin and truth - page 4.
FEATURES
Police Clampdown On RTS
Sally Chesworth and Andy Johnson report on how the success of Reclaim the Streets has induced a recent rash of police attention.
- page 16
Ingham Vs The Travellers - Thatcher's ex-press secretary spits vitriol on travellers.
- page 17.
Paint The Town
Simon Sunderland was recently given a five year prison sentence for the crime of painting colours on the walls of Sheffield. Sally Chesworth interviews an artist banged up.
- page 18
Disarming Women
The four ploughshares women recently acquitted for breaking the nose-cone of a Hawk jet fighter were but the tip of a growing movement. Neil Goodwin reviews its history and the implications of the acquittal.
- page 20
Monkey Business
Squatters in the monastery. Ally Fogg investigates Manchester's architectural activists.
- page 22
Surviving The JSA
The new Job Seekers Allowance scheme is the strictest benefit system ever and designed to knock people off welfare. Andy Johnson lists a few ways to avoid the hatchet.
- page 24
Festival Of Resistance
In celebration of the Reclaim the Streets occupation of the M41. Pictures by Nick Cobbing.
- page 26
News Of The Skews Special
Steve Platt describes the manoeuvres behind his ousting as editor of the New Statesman
- page 28
A Criminal Culture?
From the Battle of the Beanfield 1985 to the Criminal Justice Act 1994 - Jim Carey reviews the 10 year strategy designed to eradicate Travellers and festivals.
- page 30
There's No Such Thing As A Free Festival
Sam Beale talks to some modern day festival organisers about how to sow the festie-vibe in the harsh nineties.
- page 36
Where Now?
Rachel Kano talks to fellow Travellers about surviving the CJA.
- page 40
The Masher
A new magazine for Travellers launches itself in this issue.
- page 42
Gaining A Foothold
If you want to live in a bender, caravan or tent on your own land, you'll need to know a bit about planning. Simon Fairlie puts it simply.
- page 46
Raising The Banner
For over twenty years Banner Theatre have been scripting grass roots political infotainment. Sam Beale went to talk to them about their history and their latest hilarious satire on the Criminal Justice Act.
- page 48
Fight For Fairmile
Jason Royce with words and pics from the next big road protest stand-off.
- page 52
REGULARS
The State We're In - Squall notifies readers that it's going to take a break - page 12.
News Of The Skews - Nicholas Saunders, author of E for Ecstasy, replies to recent media mis-info on E - page 14.
Actors Of Parliament - Guns, MPs and pre-agenda gobble-de-gook - page 15.
Squotes - page 23.
The Voice Of Treason: Observational wit from lyric-master Mark Kelly - page 51.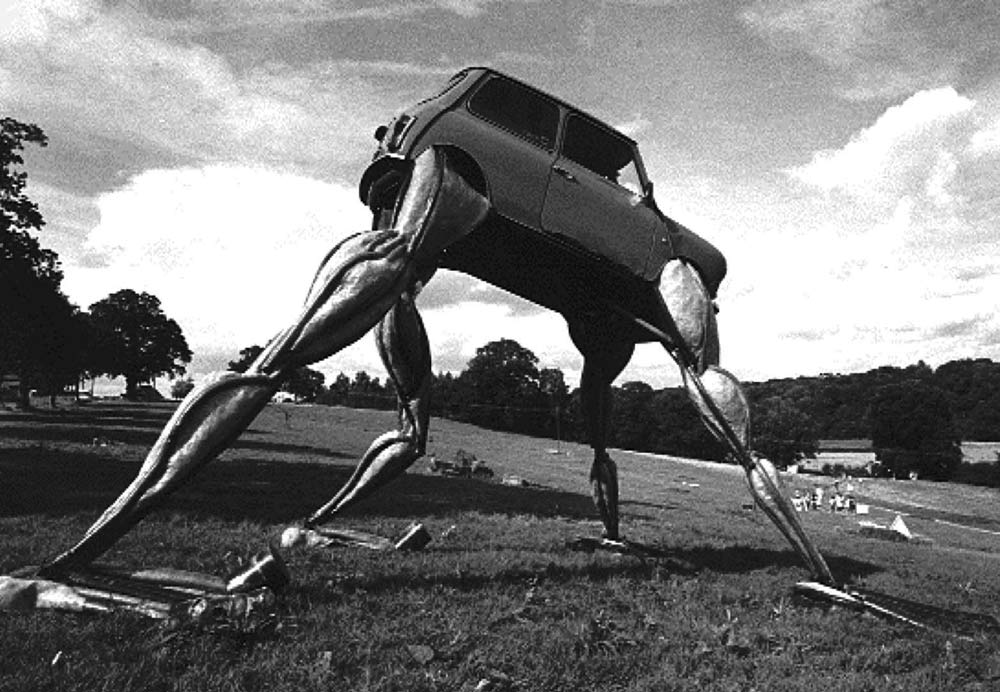 Road Rage
page 54.
Twyford Compensation - Hampshire police agree to large payout to two women wrongfully arrested at Twyford Down
One Hundred Year Slaughter - the centenary of the first ever fatal car accident
Highways Agency Yobbo - Highway Agency in M11 Link Rd PR shocker
55.
Cow Discharged: Bomber Innocent - Newbury protester acquitted for petrol bomb
Hunger Striker Victory - Newbury protester wins court battle over repressive bail conditions
Injunction Threat To Protest Rights - more injunctions served on Newbury protesters
Militant Anarchist Cyclists Arrested - following Critical Mass in support of tube worker's strike


International Squall
Zapatista! - update from the jungles of Chiapas
Pirating The Airwaves - pirate radio making waves against oppressive regimes
- page 57
Killing Without Question
A succession of governments and corporations have used the people of Bougainville as profit fodder. Neil Goodwin reports on the battered history of a Pacific Island and the involvement of British mining company RTZ.
- page 58
Organise, Invade, Produce!
Tired of having no land, no food and no rights, community activists in Brazil have turned to squatting. Simon Lewis visited their cultivated occupations to speak with them.
- page 60
Roundabout - Snippets of informed gossip, intrigue and odd occurences - page 45.
Top Ten Free Party Tunes - page 51.
Lofty Tones - Tony Allen discusses incendiary devices - page 62.
Netrogressive - Squall surfs the net - page 63.
Jewel in the Mud Award - This issue's gems from the media mire - page 64.
Lycra Shorts - Squall's sports news - page 62.
Reviews - books, music & artz - page 66.
Low Impact Development Planning and People in a Sustainable Countryside by Simon Fairlie
Lost in Concrete - activist guide to European transport policies - by ASEED Europe
Letters - page 69-70.
Larry O'Book Plug
Watts Wrong With Noise?
Bash 'Em In Kids
Spikey Vs Fluffy
Suicidal Tendenices
No Battle In The Beanfield
Contacts - page 71.