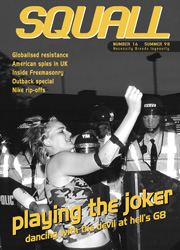 Squall 16
'Playing The Joker'
Summer 1998 (52pp tabloid)
Download PDF - 14mb
---
The State It's In / Ecstasy Testing Kits / Anti-GM Genetix actions / National Protest Round-up / Nike Sweatshop Labour / GAndALF three freed / Menwith Hill / Brickhurst Farm Permaculture / Pro-hunting Countryside Alliance March / Action at Hillgrove Farm vivisection lab / Round-up of Anti-G8 marches / Freemasons / Exodus run-in with Freemasons / Testimony From Masons / Aboriginal communities in Western Australia / first Peoples' Global Action gathering, Geneva / Voices from PGA gathering / Greenbelt Housing / reviews, letters, contacts and more.
---
CONTENTS
The State It's In - editorial from Squall HQ - page 4.
FEATURES
Space - The Final Frontier
Andy Johnson examines the controversial issue of house-building on green belt land. - page 16
Fashion Victims
Suzie Fenn investigates Nike's involvement in the exploitation of workers in Indonesia and China. - page 17
Gandalf freed after spell in prison
At a cost of over £4m and involving MI5, the Canadian Mounties, 55 separate police raids, Public Immunity Certificates, an ex-military judge and an Italian connection. This is the case of the Gandalf Three. Gibby Zobel reports. page - 18
The Hills Have Ears
Ally Fogg investigates the history of Menwith Hill telecommunications spy base, a piece of America in the North Yorkshire countryside. - page 20
Sow Far Sow Good
Georgia Wisbey reports on how its done permaculture style at Brickhurst Farm in Kent. - page 22
The Countryside Corralled
Jim Carey investigates the landed interests behind the environmentally-unfriendly Countryside Alliance. - page 24
Fur Flies At Cat Demo
Photojournalist Andrew Testa attended the anti-vivisection demo at Oxfordshire's Hillgrove Farm on World Day for Laboratory Animals. - page 26
Resistance Allstars vs Globe Rotters
This May the temperature rose on streets across the globe in protest against the G8 Summit and WTO 50th Anniversary - page 28
Boyz In The 'Hood
Peter Panatone reports on recent moves to get Masonic police to declare their allegiances, - page 30
Lodging Complaints
Peter Panatone investigates the Exodus Collective's run-in with the Freemasons of Bedfordshire, - page 33
Testimony Of A Top Ranking Freemason
A 33rd degree Mason breaks cover. - page 36
Dream Land
Sam Wild visited Aboriginal communities in Western Australia to find out if new hopes mean the Outback is back. - page 40
Globalised Resistance
The first Peoples Global Action conference in Geneva in February 1998 and the international neo-liberalism they are up against. Report by Gibby Zobel. - page 43.
Heard World
Gibby Zobel and friends attended the Peoples Global Action conference in Geneva and talked to a host of worldwide activists. - page 44
REGULARS
The Voice Of Treason - Mark Kelly - page 19.
Squotes - page 28.
Reviews - page 46-48.
Books
Copse - The Cartoon Book Of Tree Protesting - Kate Evans
No Boundaries: New Travellers On The Road (Outside Of England) - Alan Dearling
Diggers & Dreamers 98/99: The Guide To Communal Living
In-Sites - websites review by Annette Hed - page 48.

Contacts - page 50.