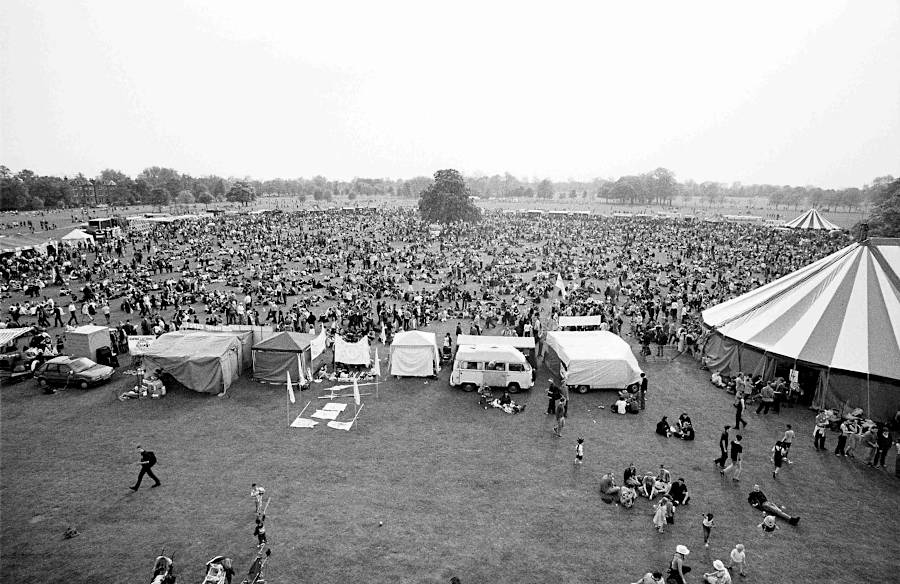 news.....news.....news.....news.....news.....
Top Pot Trio Were Not Brass Banned
Cannabis festival co-organiser found 'Not Guilty'
30th January 2000 / Squall Download 3, March/April 2000, pg. 8.
Shane Collins, the co-organiser of last years Cannabis Festival on Clapham Common, has been found not guilty of "permitting dancing and amplified music without necessary licenses".
Collins had been singled out amongst other named organisers for prosecution by Lambeth Council, after council officers reported witnessing music and dancing at the event. In excess of 10,000 people attended the event on May 1 last year, provoking no complaints from local residents, no arrests and even a council commendation on the quality of the clean up operation.
However, one council officer reported witnessing 40-50 people dancing, whilst the second officer said 200.
In the final part of the trial, which took place on Jan 20 at Balham Magistrates Court, Collins' legal brief argued that the music played at the event remained "incidental" and "ancillary" to the main event and did not constitute a breach of entertainment licensing.
Lambeth Council's prosecution team attempted to argue that a three piece jazz band, which played to an almost empty tent before the event had started, constituted public entertainment. They further argued that four brass instrument-players apparently heard in the vicinity of the SQUALL tent, constituted a "brass band" providing public entertainment.
Kier Montief, Collins' barrister and the editor of radical legal newspaper 'The Law', pointed out to the three magistrates that a brass band requires at least six instrumentalists. "Therefore," he argued. "Not only does my client have no knowledge of these allegedly wandering trombonists but in no way could four brass instrumentalists be referred to as a brass band." The council also argued that dancing had been seen in one of the bars and in an information tent.
Just three weeks before last year's Mayday event took place, Lambeth Council's licensing committee decided by six votes to five not to grant an entertainment licence to the organisers even though the park had been booked and paid for. As a result two main stages and several sound systems had to be cancelled at short notice. In addition, the publicity of the event had to altered to accommodate the change.
Before delivering their verdict, Balham magistrates heard that every stipulation laid down by public events law, including health and safety, toilets and clear up had been fulfilled by organisers. The leading magistrate at the hearing was the only one of the three to speak during the four and a half hour hearing. Her two utterances were thus: "What exactly were the instruments being played by the jazz band?" No one knew..... "We find that there was no public entertainment on the day and that Mr Collins is not guilty."
This year's Cannabis Festival is due to take place on May 6, this time at Brockwell Park in Brixton, south London.
---
Related Articles
CANNABIS MAYDAY FESTIVAL TRIUMPHS - Hugely successful Mayday Cannabis Festival marching from Brixton to gather in the sunshine at Clapham Common - 01-May-1999
UNFAIR FOR THE COMMON MAN - Festival organiser Shane Collins taken to court following the Mayday Cannabis Festival at Clapham Common - 17-Jan-2000
40,000 FURTIVE FUMERS FIND FREE FUN ON THE GRASS - Cannabis Festival 2000 at Brockwell Park, Brixton is an overwhelming success - 06-May-2000
CANNABIS FEZ A GO GO - The 4th annual Cannabis Festival to take place on May 4th at Brockwell Park, Brixton - 03-May-2002
JAYDAY JIVES - Large numbers for Cannabis Festival, Brixton - 20-May-2002
CANNABIS FEST UNDER ATTACK - Licensee taken to court on spurious charges in effort to stop Cannabis Festival - 25-Nov-2003