Cannabis Mayday Festival Triumphs
Over ten thousand people gathered in the sunshine on Clapham Common for the hugely successful Mayday Cannabis Festival
1st May 1999
Over 5000 people (police estimate) took part in the cannabis march from Brixton to Clapham, headed by the Exodus Sound System on a flat bed lorry.
The march stopped briefly in Brixton to pay respects to the victims of the Brixton nail bomb before proceeding to Clapham Common to hear a multitude of speakers including author and cannabis smuggler Howard Marks and alternative comic-satirist Mark Thomas.
A last minute objection to an entertainment to an entertainment license by local police meant rapid alterations to the scale of the proposed stages and sound systems. However, these readjustments failed to dampen either the spirit or size of the event.
Free party sound systems represented on the day included Oops (drum and bass) from Reading, Exodus (jungle techno and reggae) from Luton, SQUALL (funky house and drum and bass) and Chrimerea (drum and bass and trance) from London.
Continental Drifts also set up out of the back of a lorry and presented a number of live acts from its eclectic roster of festival bands. Other attractions included a medical Marijuana Clinic, a hemp fashion expo and the Ecotrip poets.
New home office figures released a couple of days prior to the Festival revealed another rise in the annual conviction rate for cannabis offences. Three quarters of all drug convictions in the UK last year were for Cannabis, with around 10% of the UK prison population presently incarcerated for Cannabis offences. Using Home Office figures, it is now estimated that nearly a £1 billion a year is spent on legal aid, policing, court costs and prison expenditure as a direct result of Cannabis remaining illegal.
Mayday Cannabis demonstrations and events also took place in 36 cities around the world including New York, Auckland, Sydney and Tel Aviv. Check the Internation Cannabis Coalition's web-site at www.schmoo.co.uk/mayday for more info.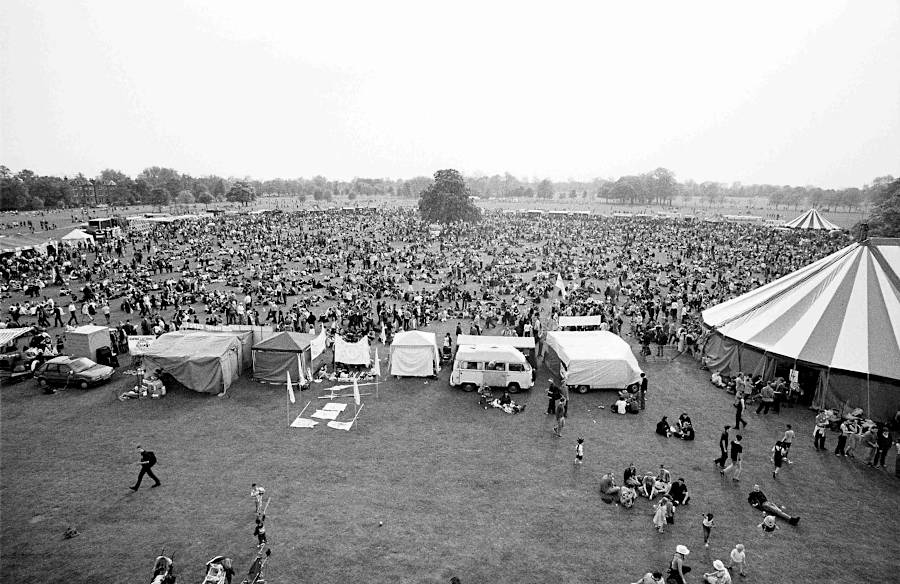 ---
Related Articles
UNFAIR FOR THE COMMON MAN - Festival organiser Shane Collins taken to court following the Mayday Cannabis Festival at Clapham Common - 17-Jan-2000
TOP POT TRIO WERE NOT BRASS BANNED - Shane Collins, co-organiser of last years Cannabis Festival, is found 'not guilty' of trumped up charge relating to the event - 30-Jan-2000
40,000 FURTIVE FUMERS FIND FREE FUN ON THE GRASS - Cannabis Festival 2000 at Brockwell Park, Brixton is an overwhelming success - 06-May-2000
CANNABIS FEZ A GO GO - The 4th annual Cannabis Festival to take place on May 4th at Brockwell Park, Brixton - 03-May-2002
JAYDAY JIVES - Large numbers for Cannabis Festival, Brixton - 20-May-2002
CANNABIS FEST UNDER ATTACK - Licensee taken to court on spurious charges in effort to stop Cannabis Festival - 25-Nov-2003