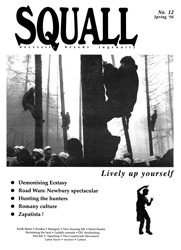 Squall 12
'Lively Up Yourself'
Spring 1996 (64pp tabloid)
The State It's In / Demonising Ecstasy / Hunt Saboteurs / Keith Mann / Countryside Movement / Romany Gypsy special / Radical home education / Newbury / M66 protest / Whatley Quarry shutdown / Zapatistas / Ladakhi nomads / Copex Arms Expo / Street theatre / book reviews / letters, regulars and more.
---
CONTENTS
The State It's In - various rants from Squall central - page 4.
FEATURES
Recreational Drug Wars - Alcohol Vs Ecstasy
Jim Carey investigates the battle waged between vested business interests and rave culture
- page 18.
Hunting The Hunters
Andy Johnson looks at the CJA and its affect on hunt saboteurs
- page 26.
Countryside Movement
A new organisation has recently emerged devoted to educating people about the countryside. Andy Johnson investigates hidden agendas
- page 28.
Compassion Behind Bars
Serving a longer sentence than most rapists or armed robbers, animal rights activist Keith Mann explains his motives and documents his treatment
- page 30.
A Mother's Pride
Three years after the imprisonment of her son, Doreen Mann describes how the experience has affected her life. Interview by Andy Johnson
- page 32.
Real Citizens
Theatre doesn't come more relevant than the Cardboard Citizens. Sam Beale discovers a cutting-edge company
- page 52.
Radical Home Education
Is school the best years of our lives or state-driven dependancy? Emma Jackson explains what deschooling is all about
- page 54.
INTERNATIONAL SQUALL
Wishes For Zuzana
Sam Beale was recently invited to a Romany christening. She reports on the vibrancy of European Gypsy culture
- page 42.
Mending The Mirror
Romany history is oral, music and dance- based. Sam Beale dicovers both myth and legend in the Gypsy story
- page 44.
Zapatista!
Vested land interests and an exclusive democracy have forced a Mexican revolution. Ursula Wills-Jones reports on the Zapatistas - a new breed of revolutionary
- page 46.
Travellers In Another Place
This issue, Tim Malyon reports on his travels to Ladakh and of the impact that the Chinese invasion of Tibet and western contact is having on the indigenous nomadic culture
- page 48.
ROAD WARS
If You Newbury Like I Newbury
The third battle of Newbury is now well under way. Neil Goodwin sends a report from the front line
- page 34
M66 And All That
This road project is ripping apart areas of Manchester. Ally Fogg finds both the environment and community considered dispensable
- page 38
A Maul On The Mound
Earth First!s superquarry shut-down at Whatley Quarry in December caused quite a stir in Somerset. Richard Dixon was there
- page 39
SQUALL BEATS
News shorts and other busyness - page 5.
Copex "not an arms fair" Libel - libel writs issued against peace groups who claim Copex displayed 'torture' equipment - page 12.
News of the Skews - Newbury hysteria at the Daily Mail - page 16.
Road News - pages 37, 40 and 41.
Lofty Tones - Alternative ways of turning on - page 56.
Jewel in the Mud Award - Charles Clover for his gem on Newbury - page 57.
Book Reviews - page 58.
Letters - page 60.