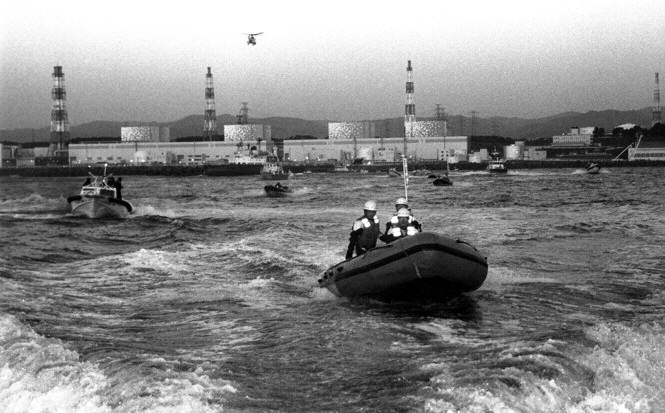 news.....news.....news.....news.....news.....
More Botched MOX Boxes Scotched?
Japan says 'No' to UK nuclear fuel
17th January 2000 / Squall Download 3, March/April 2000, pg. 12.
The consignment of MOX nuclear fuel units controversially transported by ship from the UK to Japan last year, has been rejected and will be shipped back. Kansai Electric Power of Japan say they no longer want to use the fuel following revelations that safety documents were falsified by employees of British Nuclear Fuels Ltd (BNFL) working at the MOX unit production plant at Sellafield in Cumbria.
Greenpeace International spearheaded environmental protests over the hazards of transporting nuclear material (enough to make 60 atomic bombs) half-way across the world in only lightly armed ships. SQUALL's photographer aboard Greenpeace's MV Sunrise, reported how crew members dodged Japanese maritime riot police to protest at the shipments as they arrived in Japan at the end of last year. The consignment was to have been the first of many prepared by BNFL at Sellafield in Cumbria and shipped to Japan. However, after sifting through thousands of documents, hardcore Japanese anti-nuclear campaigners discovered safety procedures had been faked and broadcast the news far and wide.
In the week following the arrival of the MOX units, Japan suffered its worst nuclear power plant accident in its history, significantly raising the profile of safety concerns over nuclear power in Japan. Much to BNFL's frustration, the Japanese government firmly responded to public disquiet in Japan by rejecting the fuel units. The entire lucrative ten year deal is now in serious doubt.
---
Related Articles
FUKUSHIMA, JAPAN - Greenpeace action in Japan against nuclear fuel shipment - 27-Sept-1999