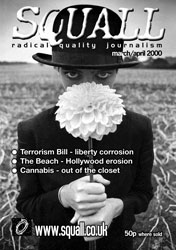 Squall Download 3
March/April 2000 (28 pages, A5) 
Download PDF - 2mb
Millennium Dome Is Dead Duck / Organiser of Cannabis Festival Found Not Guilty / Greenpeace nuclear fuel action / Reefer Gladness / Newcastle millennium free party / The Beach - the film that ripped up paradise / New Deals Down On The Farm / Raising Terror / Subvertising / and more...
---
CONTENTS
2.
The State It's In - Dome Is Dead Donald Duck
- A view over the UK from Squall central
13.
Get Ye Behind Us Celera
- Fresh from providing an alternative take on the Seattle WTO talks for Channel Four News, comedian Rob Newman returned to the UK with something else on his mind.
14.
Reefer Gladness
- A recent MORI poll suggests that 80% of Britains now want a more relaxed approach to cannabis.
16.
Frontline Communique: 2;30am, Jan 1st, 2000AD, Newcastle upon Tyne, England
- Whilst the official millennium events celebrated UK plc, underground free parties were still deemed unacceptable. Phil Rigby reports from Newcastle on the riot squad's new year present to the geordie ravers.
17.
The Beach - Countdown To Doomsday
- Filmmaker and writer Neil Goodwin reveals how Leonardo DiCaprio's latest Hollywood offering has ripped up paradise.
20.
New Deals Down On The Farm
- A multi-ethnic housing estate, on which many of Exodus Collective of Luton were born and live, is coming together in a New Deal for Communities bid
24.
Raising Terror
- The liberty-corroding Terrorism Bill is speeding its way through parliament. Si Mitchell examines the implications.