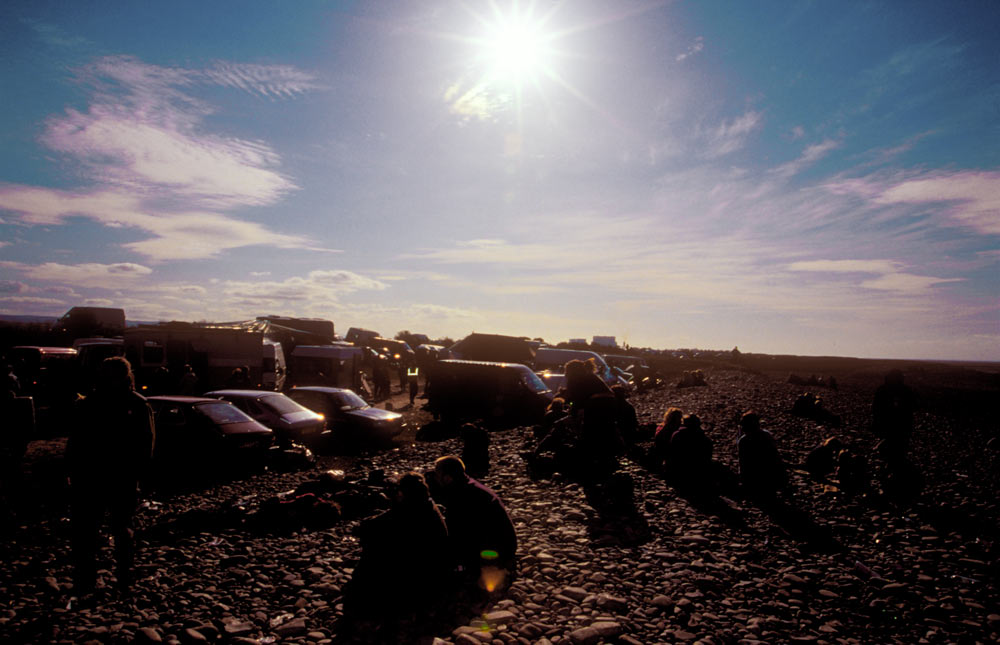 Ravers Return
Castlemorton 10th Anniversary Free Festival/Rave May 31-June 5 2002
Steart Beach, Somerset: Over ten thousand people gatheredfor the biggest impromptu free festival-rave since the Criminal Justice Act kiboshed the scene. Matt Smith was there to witness the mass gathering of the sound system tribes and sent this despatch back to SQUALL....
June 2002
A massive free festival sprang up over the Jubilee weekend in the shadow of a West Country nuclear power station, the like of which has not been seen for a decade. Not only was it the 50th anniversary of the Queens coronation; it was also the 10th anniversary of the Castlemorton Free Festival.
Back then some 10,000 people united on a common near Malvern, in a massive celebration of dance culture's power for over a week; fuelled by the music of traveller sound systems like Spiral Tribe, Bedlam, Circus Warp and DIY. The event's huge popularity gave the then Conservative Government just the excuse it was looking for to conjure into existence one of the biggest nails in the coffin of freedom this country has ever seen, the infamous and reviled 1994 Criminal Justice and Public Order Act.
This time around it was to be the turn of Steart Beach, near Bridgwater, Somerset to play host to over twenty sound systems; and anywhere between ten and fifteen thousand people, if you believe the Western Daily Press. Originally billed as the "Feeling of Life" festival, the hype had been growing for months. Rumours flew of a group of land owners wanting to provide a selection of sites, some of the original Spiral DJ line up putting together a rig especially for the occasion, a purpose built Europe wide word of mouth network for publicity, a special team of Chinese interpreters to decode all the whispers. In the end all it took was for a great idea to catch the public imagination, with nobody really certain of the venue until the last minute.
In a distinct contrast to the BBC's pre-Jubilee proclamation that the Queen wished the nation to go out and celebrate her coronation; the police operation to stop the event stretched across the country. Major surveillance was launched along the M5, the M50 towards Malvern, and the A46 in Gloucestershire. By lunchtime an estimated 1000 people at Michael Woods services on the M5 were being harassed by hovering helicopters and riot police. Smaller satellite parties that sprung up later that afternoon near Abergavenny in Wales, and on Minchinhampton Common near Stroud were busted early on, with the loss of three sound systems in a spate of state sponsored theft.
There have been reports of parties being busted in the North as far up as Halifax. Only on Dartmoor, near Okehampton, Devon, it seems, were people allowed to go about their business unmolested. One of the most worrying developments over the weekend was the use of special rave riot police; identifiable by the small fluorescent green acid smiley face stickers positioned on either side of their ID numbers on the back of their helmets. A Police spokeswoman interviewed by the Big Issue on this very subject has mysteriously tried to deny that this was the case, putting it down to "coincidence". But just check out the pictures.
By late Saturday afternoon Steart had become the popular solution to a choice of venue. With at least ten rigs up and running on the beach, Police raced to close access to the area, blocking each of the four access roads, causing a huge pile up of traffic in the remote country roads. For a while, even the Bridgwater turn-off at junction 23 on the M5, some 15 miles away, was blocked to the public. At one roadblock the congestion became so great, that a senior officer had to be dropped off by helicopter in order to resolve the situation, and finally grant access to the festival as dusk fell. The direct consequence of this late decision was to cause chaos on site, as festival-goers tried to negotiate the severely rutted and rough access roads. Many vehicles sustained damage, turned over or became stuck in the soft ground due to the lack of visibility.
By Sunday morning the site had reached gridlock along the four-mile beach and common, but the atmosphere was one of jubilation. There was a live punk stage, a couple of dub systems, and just about every genre of dance music from disco to gabba. There were so many rigs that some people didn't even bother to set up. There were people present from Brighton, London, Scotland, Sheffield, Nottingham and Leeds; from just about every region of the United Kingdom. There were French people, Italians, Dutch; an amazingly cosmopolitan assortment for an isolated Somerset backwater.
Who knows how many people might have attended, were it not for the sustained campaign of intimidation. Surely this is one of the questions that must be asked, for when so many people take the decision to pursue an objective, in direct opposition to the letter of the law, it must cast doubt on the validity of the legislation put in place to oppose their point of view.
In a mighty contrast to the no pay, no play festivals currently being foisted on the great British public by unscrupulous and mercenary councils and promoters, the beer was only a quid a can, £1.50 if you were unlucky. Food was about £2.00 a plate. There was no entrance fee, the event being open to all. The performers did a fantastic job and did not demand the equivalent of an annual national minimum wage for a one off couple of hours work. The usual private armies of petty crims masquerading as security were just not necessary, and there were children playing everywhere in unsupervised safety as proof. Everybody who had the foresight, ingenuity and necessary work ethic to make themselves some money actually got paid, on time, and got to keep it. This is in distinct contrast to recent pay festivals such as the Bristol Essential Festival where angry and ripped off punters are currently demanding an investigation of the event by Trading Standards.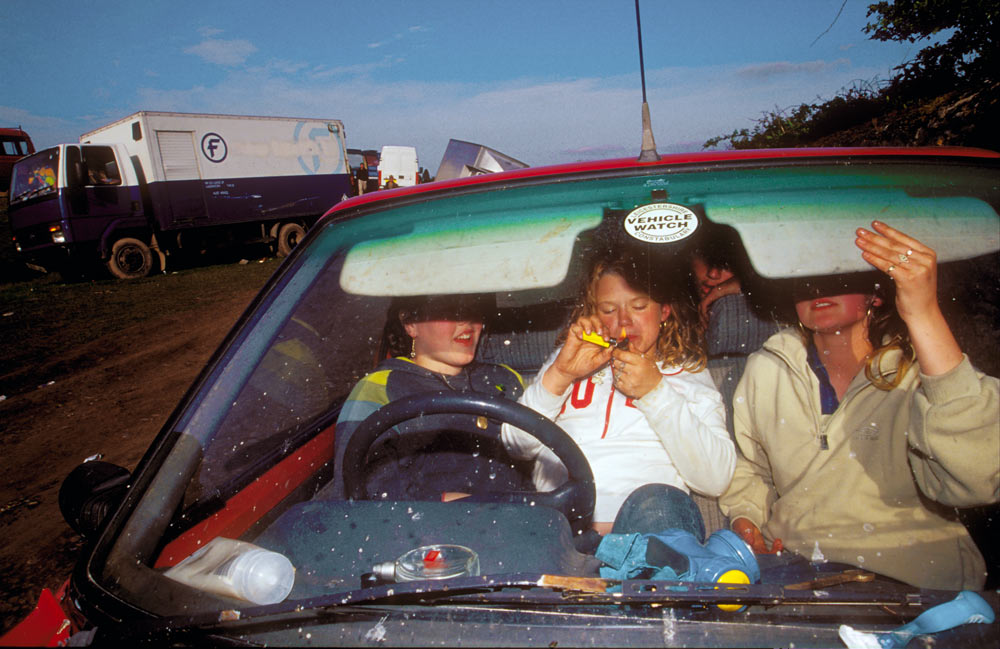 As ever the festival benefited from the organic nature of its formation, no playlists, no headline acts, no performer/punter segregation; just people coming together to create an atmosphere and entertainment with their very presence. Trouble is, that kind of thing is difficult to turn into a product and sell.
Perhaps the only downside to the event was the spaced-out idiot who took to torching any damaged car found to be vulnerable. As usual it has been reported that there were used needles everywhere, but that will always be the case as long as mainstream media need to sell copy to a readership used to having their prejudices pandered to. There were a number of people; especially the group of crusties using an empty pushchair as a mobile shop; however, who resorted to selling rocks... Openly offering pebbles collected from the beach for sale. Conscious of the high profile nature of this event, quite a few vehicle number plates were covered by their occupants and this too provoked some problems; with quite a few undercover police caught trying to uncover and record the hidden data.
This was not the first time that Steart Beach has provided a venue to events of this sort. It has been used as a harmless, out of the way party venue for years, and in 1995 provided a last ditch venue to thousands of people who turned up at Smeatharpe, a nearby abandoned airfield, for a free festival called 'The Mother'; held to celebrate the first year of opposition to the CJA. On that occasion roads for a twelve-mile radius were blocked around the airfield, and Steart again provided refuge. On that occasion festival-goers were road-blocked onto site for nearly a week along with rigs like Immersion, Sunnyside and DIY, under a four mile exclusion zone manned by Police, and Army personnel.
Since rave exploded into the public domain some 15 years ago, dance music has been used to implement legislation designed to outlaw any real freedom of association and many other civil liberties. Surveillance of society on every level has expanded, with a massive network of CCTV implemented, face recognition software developed, compulsory DNA profiling and record keeping on arrest, digital communication and financial transaction monitoring, and effective peaceful protest virtually reduced to Police discretion. The latest development in this trend are proposals to force telecom and internet companies to reveal all content and location details of phone and internet communication to a whole gamut of Govt agencies without the need for a court order. This means that for a start, that every mobile phone will become a personal tracking device.
It is now pretty much impossible to travel, communicate or trade without somebody having access to the information, and society is constantly required to take it for granted that our state is a benevolent one. Choiceless conformity and enforced dependency are fast becoming prerequisites for full access to society, while the murky threat of terrorism is being used to all but shut down any real right to privacy or anonymity. Politicians are even grooming our children for the future acceptance of compulsory ID cards via schemes like "age" cards.
Free party rave and festival culture challenges this. Events like this break with the need for marketing and advertising, they do not need to be sold to their punters to be successful, and this makes them truly democratic. They have no employer/employee structure, and every single person setting out to attend this event made a political decision and voted with their feet. In the end authority will seek to apportion blame, to identify the "criminals", so the fines can be meted out, and justice served; but the beauty of events like this are that they are really a product of raw demand, and it is the lawmakers themselves who are guilty of foisting their prejudices and hidden agendas on a population sold the false belief that a vote actually makes a difference.
Mainstream festivals are forced to buy into a state licensed protection operation to acquire licences. Councils have to be paid off, police bills paid, private security companies taken on. When most punters are already forking out a hefty wedge from their annual income in the form of Council tax and the annual Police bill payments; it seems a bit rich for organisers to pass on these costs in the form of inflated entrance fees, effectively forcing punters into paying their bills twice for the privilege of indulging in their entertainment of choice, and making the promoters a massive profit in the process.
Just go see Glastonbury. For years it has benefited from the thousands of people who get in for nothing. The event pays for itself, all the traders benefit from increase trade, it raises massive amounts for charity, and brings a vast amount of money into the South West's coffers. Yet this year it is being punished for its previously altruistic entrance policy. The existence of one of the UK's foremost cultural events is now being threatened by the same councillors that have been paid off by the event for years. "Overcrowding" apparently threatens safety, yet its safety record over the years speaks for itself, with the "overcrowding" unchecked. It is not possible to guarantee public safety on the streets of most major cities on an average Saturday night, let alone at in a temporary tent city of entertainment and diversity built to house a transient population of thousands. The event has become a victim of the power of its own popularity and success. But then again perhaps it is the prospect of 250,000 fully televised people choosing to openly consume illegal drugs, drink to excess and generally have it large for a weekend once a year; is at odds with the national image desired by our Govt's PR machine. Who can tell?
The original Castlemorton offered a lifeline to a massive community that openly rejected mainstream hypocritical authority, a glimmer of a means of funding their lifestyle choices. For years the authorities had been trying to shut down the traveller/festival lifestyle and since the Battle of the Beanfield massacre had fairly well managed to instil fear into anyone making those kind of decisions. Then along came rave and offered that culture a whole new means of empowerment and thus survival.
At the same time a whole new industry was born, and after the CJA was passed, assimilation became the keyword. Knowing that a people's need to party could not be compromised, authority took a leaf out the Roman Empire's book, and brought rave in-house, clubbing came of age, and everybody was happy because the wedge was once again heading in the right direction. Into Govt coffers and tricky dicky business peoples bank accounts, instead of the pockets of ordinary, decent, hard working folk. Then back came the free festival to illuminate the lie.
Finally, there is one post festival story that has come to light concerning the home of a long time and well-known member of the Bristol free party crew Mutant Dance. Having spent all weekend at the festival this individual returned home to find his flat ransacked and all his computer equipment vanished; including a database of some 12,000 names and phone numbers compiled over the years from their text messaging service.
Let the big shout go out to everybody who risked life, limb, property and freedom to celebrate that which is right and bright.
---
Related Articles
A CRIMINAL CULTURE? - An overview of recent decades of festivals, raves, travellers and protesters - Squall 14 / Autumn 1996
RECREATIONAL DRUG WARS - Ecstasy and the alcohol industry - Squall 12 / Spring 1996