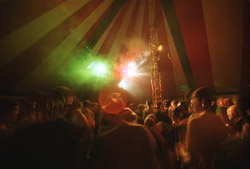 Legal And Great
7th March 2002
Exodus's first legal outdoor rave is massive success. The Exodus Collective held their first legal outdoor rave on July 29 after eight years of squatting land and dodging police. Around 5000 people attended what became a one night mini-festival just off Junction 13 of the M1.
Two large marquees were hired, one for the Exodus sound system where the Collective's DJ's were joined by guests including Leftfield, and one for a live band stage on which around ten bands performed during the night, including Luton's up-coming hip hop outfit Phi-Life Cypher and the Mancunian dub maestros, Nucleus Roots. The specially prepared site also presented several other cafes and sound systems including Gangsta Dolphin from Milton Keynes and SQUALL's 10 speaker rig and new cocktail bar. SQUALL's stable of DJ's were joined by guests from Exodus and All Crew.
Bedfordshire Police had agreed to confine their activities to minding traffic in the locality after Lord Andrew Howland had offered to loan a piece of his land for the event without charging.
At the last minute Beds Police slapped a 2am limit on alcohol sales saying they had to be fair to commercial businesses in Luton, but in the end it made little difference. The in excess of £3000 it cost to provide tents, toilets and lights for the event was covered through drink sales which simply switched to donations after the 2am watershed. Not only did the free event break even, it passed off so well that it now looks likely the four day Free the Spirit Festival held on Exodus's 17 acre farmstead for the last three years will be situated on the same site. A festival licence was applied for within days of the July 29 event.
Local fears about noise from the site proved unfounded whilst environmental health officers from the council pronounced the event well organised. Lord Howland's estate manager commented that the land and fencing was now in better shape than it had been before the event.
Exodus refused to allow Radio 1's Newsbeat to cover the event during their Saturday bulletins in an effort to keep numbers down. Their decision paid off when just the right number of people for the facilities turned up.
The success of Exodus' first legal one-night event now looks set to provide a new working example of non-commercial, non-profit making festival organisation which it is hoped will provide both the inspiration and legal precendence for similar events elsewhere in the country.
---
To see Squall's full coverage of Exodus click here