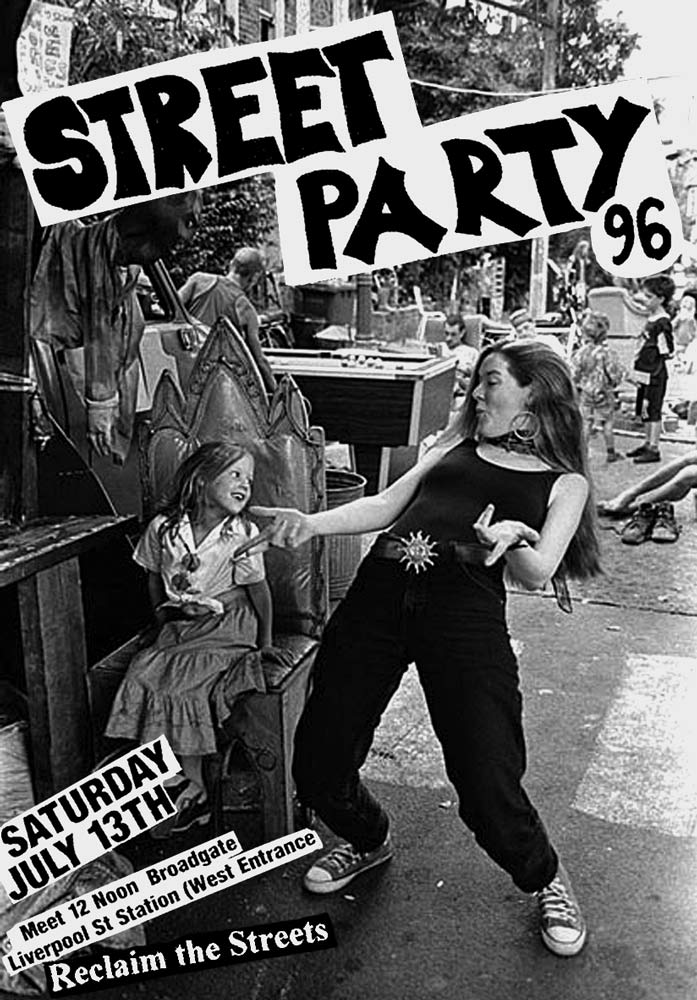 Road Rage
Highway Hold-Up
Reclaim the Streets invite you to this Summer's festival of resistance
Squall 13, Summer 1996, pg. 50.
AS PARLIAMENT prepares to shed another skin, millions will look to Blair and his New Labour for change, to turn back the clock on 17 savage years under the Tories. Transport campaigners and environmentalists will lobby the all-powerful, all-new, Minister for Transport. Their voice will be but a whisper compared with the cosy roar of the billion-pound oil and car industries.
Is it possible that the new managers of the democratic market are as intrinsic to its function as the scum they may replace? Is their job to carefully keep the engine running: to maintain the status quo?
The Street Party continues the long tradition of carnivals and festivals that stand as a moment outside the dominant order, opposing and challenging it. It embodies the ideal of non-mediated political action; the belief that fundamental change will only occur when people control their own destinies.
So when we shout it's not at politicians, but to people everywhere: People angry about the car economy; people angry about attacks on the festival and party scene; people angry about destruction of the land for "development". Ours is a shout for unity, for a general uprising.
The Street Party is a human uprising not only against cars and roads but against the ever-increasing commodification of life. The sound system is not only generating sound but actively struggling for a culture in which music and dance are not attacked but embraced. The crowd not only disrupts the traffic, they disrupt the smooth surface of commodity relations: the life where people relate to things rather than each other. On a London street even laughter is subversive...
The next Street Party in on July 13th. If you want to join in the fun, party where no-one ever partied before, change the engine growl to music, the car congestion to dance, call us on 0171 281 4621 (musicians, performers, and other active contributors welcome).
---
Related Articles
For a menu of many other Squall articles about the Anti-Roads Movement, including protest camps, Reclaim The Streets and more click here